Render Cleaning in Devon and Cornwall.
Clear and clean offer professional exterior cleaning which can be referred to as: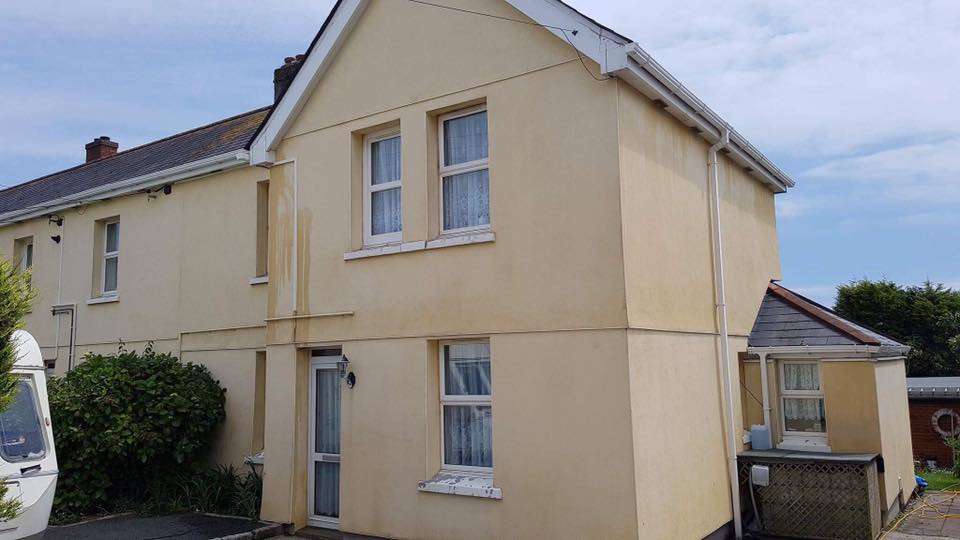 Render cleaning is a chemical cleaning process designed to kill Mildew, Fungi, Algae (red, green & black) and other contaminants growing on the exterior of buildings.
Traditionally buildings were pressure washed and repainted to remove stains caused by these contaminants. However, the results often varied and did not provide a sustainable approach to improving appearances. Pressure washing doesn't actually remove the spores from the microstructure. The pressure of water actually feeds organic growth and algae will re-appear in a short period. It can also affect structural renders and finishes due to the high pressure involved. With softwashing a chemical is used to kill organic growth deep within the outer surface. Softwashing has become an effective way to treat and clean any organic growth when applied by a fully trained professional render cleaner.
Using a non-trustworthy company could cause damage to your rendered walls, plants, doors, windows, lead flashing, the list goes on. The best advice we can give you is to check out the company first:
Reviews
Feedback
Instagram
Facebook
Web pages
Twitter
Photos of work completed
Proof of insurance to use chemicals
Certificates of courses attended
Do you have a render warranty on your premises?
Protect your warranty by using Clear and Clean knowing:
Our prices are competitive and quotations and advice are free
Our services are guaranteed
We are 5* rated and wish to continue delivering our customers the best service possible
We can provide various methods to clean your commercial or domestic premises professionally and safely using:
Biocide.
Sodium hypochlorite.
Hot 150c steam.
Our cleaning methods have proven to be successful in the fight against organic growth on your rendered walls. As a professional fully trained softwashing company we guarantee to remove all algae from your premises safely.
Don't risk your most expensive purchase (Your Home) always use fully trained softwash applicators. We are fully trained in the methods of chemical use, and would advise our new and existing customers to be vigilant when choosing a company to remove algae from their render. Unfortunately there are many cleaners who quote for render cleaning without training or insurance.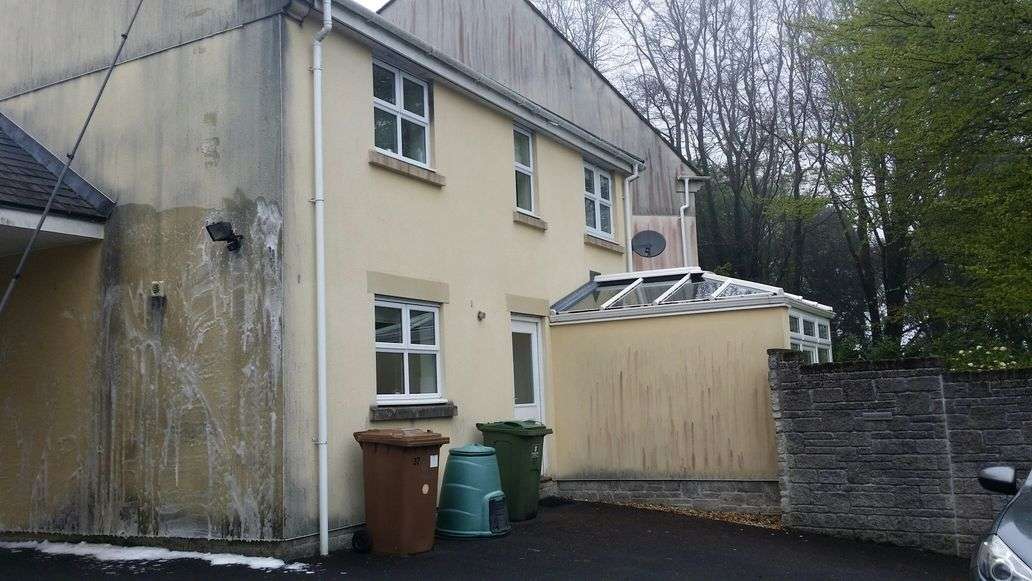 We are always looking to help you keep your property in top condition. Contact us today for a free, no obligation quote. We offer our services to the whole of Devon and Cornwall and they include the following:
Render Cleaning
We offer our services to the whole of Devon and Cornwall and they include the following.
Pressure Washing
We have both van & trailer mounted pressure washers. Along side with our low pressure cleaning.
Softwash Cleaning
Soft washing is a low pressure cleaning process commonly used to safely treat and remove organic matter.
After Care & Maintenance
Render needs to be maintained to keep it free from organic growth. Clear and Clean can help!
Steam Cleaning
Providing environmentally friendly restoration cleaning. Steam reduces reliance on chemicals.
Window Cleaning
We offer this service both commercial and domestic. All cleaning is undertaken using our reach and wash system.
uPVC Cleaning
Using the services of Clear and Clean, based in Plymouth, you will be provided with a safe and effective clean of your uPVC.
Roof Cleaning
Many roofs are effected from Algae, Lichen and Moss. We remove and applicate a biocide treatment.
Gutter Cleaning
We have many years of gutter cleaning experience to offer. We are fully trained with iPAF powered access. Fully trained to work at heights safely.
Commercial Cleaning
We have many years of commercial cleaning experience to offer. We are fully trained with iPAF powered access. Fully trained to work at heights safely.
Conservatory Cleaning
Adding a conservatory to any property is a big investment. Keeping your conservatory clean and algae free can be difficult.
Driveway Cleaning
Clear and Clean offer high quality, professional cleaning for all forms of driveways, with over 30 years' experience to give you the best results.
Insurance & Accreditations
Address
Clear and Clean SW,
22 Derwent Avenue,
Efford,
Plymouth,
PL3 6JW